VFW Announces 2013-2014 National Youth Scholarship Contest Winners
The winners of the VFW and Ladies Auxiliary sponsored Voice of Democracy audio-essay competition and the Patriot's Pen essay competition were announced yesterday during the 2014 VFW Legislative Conference in Washington, D.C.

The Voice of Democracy program celebrated its 67th year with this year's theme, "Why I'm Optimistic About Our Nation's Future." The first-place winner, Madison Haley, sponsored by VFW Post 777 and Ladies Auxiliary in Mount Pulaski, Ill., received an all-expense-paid trip to Washington, D.C., where she was presented with the T.C. Selman Memorial Scholarship Award in the amount of $30,000. The second-place winner, Grace Speas, sponsored by VFW Post 10097 and Ladies Auxiliary in Fort Myers Beach, Fla., received the $16,000 Charles Kuralt Memorial Scholarship Award. The third-place winner, Luke Ball, sponsored by VFW Post 2573 and Ladies Auxiliary in Wilmington, N.C., received the $10,000 VFW Scholarship Award. All other state winners received at least a $1,000 college scholarship. More than 40,000 students ...
After losing his leg in an IED explosion while serving in Afghanistan, Kionte Storey has hiked to two of the highest points in the world.
Storey, who served in Iraq (2008 to February 2009) and Afghanistan (2010) with the 3rd Bn., 7th Marines as a basic infantry rifleman, said when he reached the summit of Mount Vinson in Antarctica in 2013, it was "such a big relief" that he cried.
"It was such a big moment for me because, here a year ago I was in the hospital. I didn't know how life would be, walking and struggling through my depression and not wanting to live," Storey said, "and now I'm at the summit of Mount Vinson blessed that I'm alive."
In what he called a "life-changing" moment, Storey said he thought about his brothers from combat and realized, after completing the 16,067-foot trek, that living to help others was what he needed to do.
"If I never went through that experience, I honestly couldn't tell you where I would be," Storey said.
'I'm here for something better'

Today, the father of three is preparing to graduate with a law degree from Washington University in St. Louis, Mo., a feat, he said, that wouldn't have happened without the VFW.
In 2008, Tjaden deployed to Iraq with the 2nd Bde., 1st Armd. Div., for 15 months. As a close air support coordinator, Tjaden spent time at Forward Operating Base Hammer, Camp Liberty and Camp Stryker.
While deployed, Tjaden said he had trouble with his ankles, constantly rolling them. He would wrap his ankles and move on. It wasn't until he returned stateside that he learned he should have had doctors examine and properly care for his ankles long before.
He had surgeries on both ankles at Walter Reed National Military Medical Center in Bethesda, Md. During the process, nerves in his legs were damaged, and he could no longer walk. When he was medically retired in 2014, he was told a wheelchair would be his new way of life.
Undeterred, he contacted his alma mater, Eastern Illinois University (EIU) in Charleston, Ill., to enroll an...
Michael Ward, 39, of Sacramento, Calif., has lived a full life with the military. He's been a part of the Marine Corps, Army and Army National Guard. He gives high praise to his family for supporting the military lifestyle.
"My wife Elaina has also done more than her part to serve in her own way," he said. "She has always gone the extra mile in supporting the armed forces by planning events on bases and actively supporting other spouses."
They are proud parents of four; Stephen (13), Malcolm (9), Justice (7) and Michael (2). 
In 2004, before his first child was born, Ward was serving as a sergeant in Iraq. After being briefed at a command station, he and his group came under enemy fire.
"I was blown from my truck, and hit my head on a rock. The attack was surreal … it felt like I was in a movie," Ward said.
Upon returning to the states, Ward faced a homecoming all too familiar for many troops. After serving his country with pride for 16 years, he suddenly felt isolated and unsupported.
Ward...
KANSAS CITY, Mo. - The Veterans of Foreign Wars of the U.S. (VFW)  and Veteran Tickets Foundation (Vet Tix) are pleased to announce they've entered into an official alliance designed to benefit all veterans and service members, as well as their families and caretakers. By teaming up, both organizations increase awareness of the opportunities offered by both the VFW and Vet Tix. The organizations share the common goal of helping veterans during their time of service and as they transition back into civilian life by providing them with resources and support services.
"It is such an honor to partner with the VFW, which has such a rich history of supporting veterans since 1899," said Mike Focareto, CEO of Vet Tix. "This collaboration will provide opportunities for all veterans to become VetTixers while experiencing the benefits of both Vet Tix and the VFW. We have found that our tickets not only provide smiles and memories to our VetTixers but have also helped their reintegration into the community. I look forward t...
Matthew Carbonelli, 30, of Lake in the Hills, Ill., was recently awarded the VFW's "Sport Clips Help A Hero Scholarship." The funds will help him finish his doctorate in Counseling Psychology at the University of Wisconsin-Milwaukee.
"I've seen friends in the military struggling with mental health problems, and I also work part-time at a shelter that serves the homeless population in Milwaukee. I've interacted with several veterans there," he said. "This is one of the reasons I want to spend my career combating the mental health crisis in the military."
Carbonelli served six years as a Combat Medic in the National Guard, and deployed to active duty in Afghanistan.
He related, "I wanted to do my duty to serve my country, and follow in my grandfather's footsteps."
Carbonelli is an active member of the VFW and the Student Veterans of America chapter at the University of Wisconsin-Milwaukee. He developed a training workshop on suicide prevention and awareness for student veterans at his campus.
He als...
KANSAS CITY, Mo. - The Veterans of Foreign Wars of the U.S. is now accepting entries for its 2018-19 Voice of Democracy and Patriot's Pen youth scholarship competitions. The announcement comes just a week after the VFW's 2018 Legislative Conference concluded in Washington, D.C., where the top students from across the globe were recognized.
Dedicated to encouraging a better understanding and appreciation of America, the VFW's Voice of Democracy and Patriot's Pen essay competitions help foster patriotism among today's youth. The programs also foster friendly competition as well as rewards success in the form of some $3 million in scholarship monies being distributed.
The Voice of Democracy theme for 2018-19 asks high school students to reflect on "Why My Vote Matters." The audio-essay ...
Rich Synek remembers the day he encountered a hungry World War II vet. Synek was postmaster in Vernon Center, N.Y., in 2008 when he asked the Battle of Okinawa vet why he purchased stamps one at a time rather than buying a book of stamps. 
Mr. B., as Synek refers to the vet, told him he couldn't afford it and for that matter, he and his wife could only afford to eat two weeks out of every month because their money didn't last.
The idea of the elderly vet going hungry was too much for Synek. He and his wife, Michele, went out that night and purchased a box of food to take
to Mr. B. 
"There was nothing in the refrigerator other than condiments," said Synek, a VFW Department of New York member. "Nothing in the freezer, no cans of beans in the cupboard. It was sickening to me that our veterans can't afford such a basic necessity as food."
Out of this one act was born Feed Our Vets, a nonprofit founded by the Syneks in 2008 in New York. In addit...
WASHINGTON - The Veterans of Foreign Wars of the U.S. is saluting former Department of Veterans Affairs Secretary Dr. David Shulkin for his faithful and dedicated service to veterans of all generations. He came aboard in 2015 as Undersecretary for Health as the VA was still reeling from a nationwide crisis in care and access that had rocked veterans' confidence a year before. He was retained by President Trump and confirmed as VA Secretary by the Senate 100-0. Under his tenure, the VA has achieved a host of successes ranging from increased accountability and transparency to a beefed-up education package and increases in overall funding and patient satisfaction. "The VFW wishes him and his family all the best in their futures," said VFW National Commander Keith Harman.

The nominee to become the next VA Secretary, Navy Rear Adm. (Dr.) Ronny Jackson, served in Iraq as an emergency physician in charge of resuscitative medicine for a forward deployed surgical shock trauma platoon, and since 2006, has been the ...
Last year, two VFW Posts ushered in a new era. One elected its first female commander and the other elected its first black female commander. Both women hope to increase their Post's involvement in their communities.
VFW Post 9931 Commander Kimberly Napoleon said she initially didn't understand "what the impact would be" or how she would be received by her fellow Post members. However, she added that she was honored to be elected commander of the Bridgeport, Mich., Post last July.
"Our Post is predominantly all men, and to have them have enough confidence in me to take us to another level, that meant a lot," said Napoleon, who served in the Persian Gulf in 1990 as a local purchase agent with the 364th Supply and Service Company.
A "community servant by nature," Napoleon said her goal as commander is to bring more awareness of the VFW to the community.
"I believe in patriotism," Napoleon said. "I also believe in giving recognition to those to whom it's due, such as our veterans."
Specifically, ...
Female veterans continue to make great strides within the ranks of VFW. More than ever, seasoned leaders within the organization welcome women with the realization that they, too, are a part of VFW's future.
This is exactly what happened at Post 7511 in Monroe, Wash., where the members met Global War on Terrorism veteran Jaymie Weber in January.
Weber, who served nine years in the Air Force, saw a Facebook notice about a pancake breakfast at the Post - about 35 miles northeast of Seattle - and decided to check it out.
"I stepped out of my introverted shell a little bit," said Weber, a mom of two daughters, ages 3 and 5. "I showed up and about half of the people were Vietnam vets and the other half younger."
Weber signed up to be a member, and it wasn't long before she was viewed as a "doer." She got the home-improvement retailer Lowe's to donate 43 flags to the Post just by asking. Post leaders were so impressed, they asked her to become quartermaster. She was elected in mid-2017, becoming the Post's ...
Sergeant Spencer Dwight Hardesty, 26, of Canyon Lake, Calif., joined the United States Air Force at the age of 19.
"I thought it would be an awesome experience to serve in the same branch as my brother," he said. "As time drew on, I gained a love and deep appreciation for the United States Air Force."
Hardesty recently graduated from Trident University with a degree in business administration. He's now working toward a credential at Villanova University with the hope of commissioning as an officer in the Air Force. The VFW's "Sport Clips Help A Hero Scholarship" is helping pay Hardesty's tuition expenses.
"Although I had finished my undergraduate program, the VFW is still opening doors in pursuing my education and helping me become a stronger candidate for commissioning as an officer," Hardesty expressed.
"This scholarship affirmed my belief that applying one's self as much as possible will allow you to succeed. It's just a stepping-stone to achieving my ultimate goal. I know I need to apply myself in w...
LOUISVILLE, Ky. and KANSAS CITY, Mo. - Humana Inc. (NYSE: HUM), one of the nation's leading health and well-being companies, through the Humana MarketPoint organization, has enhanced its exclusive agreement with the Veterans of Foreign Wars of the U.S. (VFW), the nation's largest organization of war veterans and the oldest major veterans' organization in the U.S[1]. As part of this expanded relationship, Humana is the national Medicare Advantage (MA), Prescription Drug Plan (PDP) and Medicare Supplement plans carrier for the VFW with exclusive marketing and promotional rights to the VFW.
The 750,000+ members of the VFW, and their spouses, who are eligible, or approaching eligibility, for Medicare, will get seamless education, guidance and access to these plans. 
"Humana...
Torrey Wingate of Rochester, N.Y., joined the United States armed forces after she met an Army recruiter who inspired her to become more. Wingate was first stationed at Fort Lewis, Wash., and went on to serve at Fort Myer, Va. During her time at Fort Myer, Wingate injured her back and knees.
She thrived in the structured routine of her military life, and missed this steadiness and stability when it came time to transition to civilian life. Post Traumatic Stress Disorder made the transition even more challenging. The fear and anxiety she felt took a great toll on her mental health.
Securing a job and leaning on her support system of husband, Todd, and their five children (ranging from 5 to 28 years old) helped smooth her transition. 
Her progress came to a sudden halt when her family moved from upstate New York to North Carolina. With the increased cost-of-living and Wingate unable to find a job, they went from a "two-income household to a fraction of one."
She was devastated to see her dreams crumble as ...
Hunting, much like war, forms a bond between people of different backgrounds. This holds true for the disabled veterans who participated in this year's 35th annual VFW magazine - and Doonan Gulch Outfitters - sponsored antelope hunt. Four Vietnam War veterans participated in hunting antelope, sightseeing and conversations. 
Located 25 miles west of Broadus, Mont., Doonan Gulch Outfitters is owned and operated by Russ and Carol Greenwood. Russ Greenwood said Carol and he started hosting the annual hunt in 1982 because they didn't like the way Vietnam War veterans were treated when they came home.
Russ Greenwood also has a personal connection to Vietnam War veterans. His twin brother - Roger, a member of VFW Post 987 in Black River Falls, Wisc. - flew helicopters during the war. The Greenwoods started hosting disabled veterans 20 years ago. Since then, Doonan Gulch Outfitters has hosted veterans of every generation since the Vietnam War.

'We didn't dwell on the war' 
George Stavropoul...
WASHINGTON - The nation's top three veterans service organizations have released their latest edition of The Independent Budget to coincide with the Administration's fiscal year 2019 budget recommendation for the Department of Veterans Affairs.  
For more than 30 years, the three Independent Budget co-authors - DAV (Disabled American Veterans), Paralyzed Veterans of America (Paralyzed Veterans), and the VFW (Veterans of Foreign Wars of the United States) - have presented budget and policy recommendations to Congress and the Administration. These recommendations - which are supported by 27 other health, family, military, and veteran service organizations - are meant to inform lawmakers of the needs of all veterans, and to offer substantive solutions to address the many health care and benefits challenges they face. This independently-developed budget serves as the veterans groups' benchmark for properly fu...
Marine veteran Jordan Soderman wears many hats. Everyday he is a full-time firefighter for the city of Minneapolis, Minn., father to 7-year-old Hunter and 5-year-old Caleb, husband to wife Jessica, Staff Sergeant in the Air Force Reserves and master's student in Emergency Management. It's a lot of responsibility and he takes great pride and care in each role.
Soderman was extremely grateful to be a recipient of the VFW's "Sport Clips Help a Hero Scholarship," especially because his family depends on his salary for a living.
Soderman grew up in the rural Midwest on his family's farm. He joined the Marines in 2006, right out of high school. He felt called to enlist because his parents taught him how much respect service members deserve, even though they were civilians themselves.
"The military was on a pedestal to me, and I wanted to give back to my country and travel outside my small town."
Soderman was deployed three times between 2007-2010. During the first two deployments, he was assigned to a Fleet An...
WASHINGTON - Early this morning Congress voted to keep the government open for six more weeks as it works out a two-year budget deal that increases sequestration-levied spending caps for fiscal years 2018 and 2019. The good news is the two-year budget deal should provide the Department of Defense the predictable funding it needs to improve readiness, and build a larger, more capable and lethal force. But the deal does not eliminate sequestration.
"Reducing the impact of sequestration by raising spending caps is a step in the right direction," said Keith Harman, national commander of the Veterans of Foreign Wars of the United States, "but the deal doesn't eliminate the sequester, which will still be the law after the two-year deal expires." 
This morning's action raises spending caps by nearly $300 billion for both defense and non-defense spending for FYs 2018 and 2019. The VFW believes that the funding increase will protect military quality of life programs, the promised 2.4 percent pay raise, and oth...
KANSAS CITY, Mo. - The Veterans of Foreign Wars of the U.S. is proud to name the top three teachers in its 2018 Smart/Maher VFW National Citizenship Education Teacher Award contest. 
Each year, the VFW selects one teacher from the elementary (K-5), middle (6-8) and high school (9-12) levels to receive the Smart/Maher VFW National Citizenship Education Teacher Award. Established in 1999, the award recognizes our nation's top teachers for their exceptional commitment to teaching Americanism and patriotism to their students by promoting civic responsibility, flag etiquette and patriotism in the classroom. The award is named after former VFW National Commander John Smart and retired VFW Quartermaster General Larry Maher.
Emily Cowan Ezell, a third-grade teacher at Cowan Elementary School in Cowan, Tenn., was named the elementary school winner for fostering students' patriotism through an annual production of her self-written and designed patriotic play, This Is Our Country. Ezell is known for planning ann...
At PatientsLikeMe, a member of the VFW's Mental Wellness Campaign, we've been shining a spotlight on voices in the veteran community. We've heard from a military caregiver battling caregiver fatigue, a lung cancer survivor celebrating a year cancer free, and a veterans advocate who shared how he stays calm with embroidery. 

Today, we'd like to introduce Lynn, an Iraq war veteran living with PTSD and depression. Lynn shared about how he went from struggling daily to crossing the finish line of the Bataan Death March, a 26-mile trek through high desert terrain. 

...
KANSAS CITY, Mo. -The Veterans of Foreign Wars of the U.S. is proud to announce that for the eighth-consecutive year, it will be a presenting sponsor for the 29th annual Bataan Memorial Death March at White Sands Missile Range, N.M.
The memorial march is a challenging, full-marathon expedition through 26.2 miles of high desert terrain, conducted in honor of the heroic service members who defended the Philippine Islands during World War II, sacrificing their freedom, health, and in many cases, their very lives.
Held annually since 1989, the March 25 event is anticipated to be the biggest event to date, with nearly 8,400 military and civilians participating individually or as teams.
"The VFW is honored to help ensure the sacrifices and stories of U.S. and Filipino soldiers who endured and perished during the Bataan Death March are never forgotten," said VFW National Commander Keith Harman. "For nearly 119 years, the VFW has been dedicated to honoring and pr...
This article is featured in the March 2018 issue of VFW magazine and was written by Kari Williams, associate editor, VFW magazine. USCG photo by PA1 Tom Sperduto.
Fifteen years ago this month, U.S. troops launched Operation Iraqi Freedom. 
VFW magazine spoke with the organization's members who served during the war's opening phases. Older and 15 years wiser, they provide some perspective on their service, their shared sacrifices and their feelings about how the war ended.
...
In the cozy basement office - or "man cave" - of his tidy Vermont home, Zachariah Fike picks up a Purple Heart, perhaps the military's best-known medal, and cradles it lovingly in the palm of his beefy left hand. He turns over the slightly scuffed and tarnished heart-shaped medal and sees a name inscribed on the back. 
"World War II," he says as he looks over the medal that was recently sent to him. "At least that is what it looks like. Might have been lost or stolen or sold." 
Fike, a blue-eyed, 6-foot-6-inch, 36-year-old full-time Vermont Army National Guard major, turns over the Purple Heart and carefully smooths out its frayed and curled purple and white ribbon. 
"These medals were awarded to people who fought, bled and died for this country," he explains. "That's why we should do everything we can to see that they are returned."
As he carefully puts the medal back in its battered purple and gold presentation case, Fike, a VFW life member of the Department of Vermont, said, "The soldier who was award...
WASHINGTON - The Veterans of Foreign Wars of the U.S. is proud to announce the national winners of its 2017-18 Voice of Democracy and Patriot's Pen youth scholarship competitions. The winners were announced live during last night's Parade of Winners at the 2018 VFW Legislative Conference in Washington, D.C.
The Voice of Democracy audio-essay program celebrated its 71st year with nearly 40,000 students weighing in on this year's theme, "American History: Our Hope for the Future." Robyn Anzulis, sponsored by VFW Post 10076 and its Auxiliary in Mt. Airy, Md., received an all-expense-paid trip to Washington, D.C., where she was presented with the $30,000 T.C. Selman Memorial Scholarship award and delivered her first-place essay.
The second-place winner, Philip Dunagan, sponsored by VFW Post 2471 and its Auxiliary in The Dalles, Ore., was awarded the $16,000 Charles Kuralt Memorial Scholarship. Th...
Michael R. Aaron of Lebanon, Ore., joined the United States Marine Corps during his senior year of high school after the terrorist attacks on 9/11. Aaron served as a Machine Gunner in the Marines for over five years.
During his years of service, Aaron faced many physical and mental health challenges. While stationed in Iraq, he broke his wrist and suffered a burst fracture in his spine.
The horrific experiences of war followed Aaron home from Iraq and Afghanistan in the form of a Traumatic Brain Injury, Tinnitus and Post Traumatic Stress (PTS). He jumped from job to job, searching for a greater purpose, but nothing seemed to help. 
Aaron felt like he was drowning under the weight of the PTS, and with the devastating news of the suicides of several of his brothers he served with, he could no longer stay afloat.
His mental health continued to decline. The strain on his wife, Whitney, and his two children, Henry and Laura, was immense and finally prompted Aaron to seek help.
Aaron sought treatment at...
Comedy is not a cure for the mental wounds service members receive overseas. But for Patrick Donohue, it plays an important role.
The Afghanistan War veteran said there are "no words to describe the internal happiness" he feels because of his nonprofit Project9Line, which hosts a comedy workshop for veterans.
Donohue said though it's not the only activity that has helped him personally,
comedy has made a difference with approaching others and speaking publicly.
"[I'm able to] share my experiences just so much better now," Donohue said. "It's like night and day."
Donohue, a member of VFW Post 433 in Sayville, N.Y., started Project9Line in late 2013-early 2014 to help veterans. Donohue served in Kandahar, Afghanistan, with the 2nd Bde., 101st Abn. Div., as a water-treatment specialist from 2010 to 2011, and said he was diagnosed with PTSD while on active duty.
"When I returned home from overseas, I had a r...
WASHINGTON - The Defense Health Agency (DHA) this week lowered co-payments on its new TRICARE Select health benefit plan thanks entirely to the advocacy efforts of the Veterans of Foreign Wars of the United States and other veteran, military and family service organizations.
 
The fiscal year 2017 National Defense Authorization Act (NDAA) directed an extensive overhaul of the military's health benefit program, effective Jan. 1, 2018, that principally merged TRICARE Standard and Extra into a new TRICARE Select category, and created two new beneficiary groups: Group A, individuals who served prior to Jan. 1, 2018; and Group B, individuals who began their military service after that date.
 
Group B co-payments were outlined in the NDAA, but DHA calculated new Group A co-pays based on past costs, instead of adopting the percent-of-services-used model employed by the former TRICARE Standard and Extra plans. This caused great concern in the military and veteran communities, because the flat-rate syst...
Jon Gohn, 39, of Lakeville, Minn., serves as a Staff Sergeant with the South Dakota Army National Guard. Since enlisting in February of 2000, Gohn has deployed to Iraq and Kuwait. His work now focuses on training soldiers in the Army Basic Instructor Course, the Army Small Group Instructor Training Course and certification and non-commissioned officer training for 13M Multiple Launch Rocket Systems.
Gohn said, "I first wanted to join the military because I wasn't living a lifestyle that was conducive to self-improvement.
"I walked into the National Guard Office in Aberdeen, S.D. and told the recruiting officer, 'I need to give back and stop taking advantage of my freedoms.'"
Since then he has strived to model the core values he learned in the military.
"The National Guard has given back to me everything and more than I have put into it," Gohn expressed. "If I wasn't a veteran, I wouldn't have the career I have today.
"And I personally believe there's no better job out there."
Gohn also work...
KANSAS CITY, Mo. - The Veterans of Foreign Wars of the U.S. is proud to announce that its VFW's "Sport Clips Help A Hero Scholarship" program has now awarded more than $4.1 million in scholarships to 943 military and student veterans. The latest award of more than $550,000 will now enable 118 student veterans to continue their higher education classes this spring semester.
"The VFW was instrumental in the passage of the Post-9/11 GI Bill and the new Forever GI Bill, but those beefed-up educational assistance programs still can't cover the full cost for certain curriculums," said VFW National Commander Keith Harman. "Through the generosity of Sport Clips and its founder, VFW Life member Gordon Logan, we were able to c...
Regardless of where you are in your transition from a military to civilian career, you've likely heard the advice to build a presence on social media. Maybe, as you heard this advice, you thought:

Social media is for young people to chat and "meetup."
I've missed the boat on building an online presence. It's too late for me.
I'm afraid to give out my personal information to just anyone!
I don't know where to start …
Social Media Today
When social media first came on the scene, it was mostly filled with young people sharing pictures, thoughts and opinions of their lives and surroundings. Job seekers also used social media to learn about companies who were hiring and how to apply.
For student veterans, social media can produce thoughtful content, intere...
The TRICARE.mil website has been updated to include the latest information about beneficiaries' access to health care services. The www.TRICARE.mil/shutdown page has the following text, as well as additional details about impacts of government shutdown on MHS beneficiary services. Individuals can sign up to receive email alerts regarding any impacts to their TRICARE benefit during the shutdown. Please visit www.TRICARE.mil/shutdown for up-to-date information.
The Military Health System will continue to provide health care to its beneficiaries during a government shutdown. While we can't predict the exact consequences of a shutdown on every part of our MHS, we may see some impacts on the delivery of health care services within our military hospitals and clinics.
Inpatient, acute and emergency outpatient care in our medical and dental facilities will continue, as will private sector c...
KANSAS CITY, Mo. - The Veterans of Foreign Wars of the U.S. is now accepting submissions for its 2018 National Publications Contest. VFW publications published up to four times annually, or five or more times annually, will be judged in four categories.
The categories are:
Department-level publications:
Newspaper/Newsletter

Best Feature Story

All publications judged together in this category and submitted separately. The story must be a published article of at least 300 words. It can be originally written by your newspaper/magazine staff or by a freelance writer, or be reprinted from a newspaper within your state.

Magazine
Hurricane Harvey caused the windows of VFW Post 3904 in Rockport, Texas, to blow in. Air pressure forced the roof off the building, and it landed in three neighboring yards. Part of the front wall also fell in.
But days later, Post members held a meeting in the parking lot, amid the destruction.
"It was a complete act of defiance and unity," said Post Commander Jimmy McCombs. "It was our way of saying Harvey can kiss our - you know."
Hurricane Harvey, which made landfall Aug. 25, was the first major hurricane to hit the Texas coast since Celia in 1970, according to the National Weather Service.
McCombs, who served three tours (1983, 1992 and 1996) in the Persian Gulf and during Operation Desert Storm with the Navy, said as soon as word spread about the damage to Post 3904, he started receiving calls. Messages arrived from as far as Boston, Mass., and Tacoma, Wash., along with various Texas Posts. As of September, the Post had received about $4,500, according to McCombs.
As the Post awaits word fro...
KANSAS CITY, Mo. -The Veterans of Foreign Wars of the U.S. is pleased to announce it has teamed up with ID.me to provide its members with a more streamlined and secure online experience. The VFW is the first major veterans service organization to use ID.me as a single-sign on for its digital platforms.
VFW members can now sign up for an online account with ID.me, creating a single username and password to log in to the VFW Online Membership System, access VA benefits on Vets.gov, and gain immediate access to military discounts from 200+ retailers.
Marine Veteran Continues Recovery with Help from Unmet Needs
Terry Snelling, age 34, of Gravette, Ark., was awarded a VFW Unmet Needs grant for his mortgage payment after a devastating medical condition threatened his ability to work.
Snelling served for 16 years in the Marines as an aircraft mechanic, deploying to Afghanistan, Iraq and Kuwait. After retiring early and returning home to wife, Jennie and their three children, Cody, Dustin and Alexa, the unthinkable happened.
Snelling suffered a stroke last November, and as a result lost the use of his left arm and leg. Though currently in rehab, he is still struggling with regaining fine motor skills.
The retirement money Snelling had from the Marine Corps wasn't enough, and he and his family began to worry about the future. "I had been looking for work but have been having a hard time finding anything, since I couldn't draw on my experience as an aircraft mechanic without full use of my left hand," he said. 
Snelling is currently in school for mechanical engineering through the VA's Vocational Rehabilitation and E...
KANSAS CITY, Mo. - The Veterans of Foreign Wars of the U.S. is proud to announce that its VFW Unmet Needs program provided a total of $684,000 in disaster assistance grants to help more than 2,050 military and veteran families recover from last year's string of natural disasters. 
The relief funds aided more than 1,063 families after Hurricane Harvey, 925 families after Hurricanes Maria and Irma, and more than 40 families after the California wildfires.
In addition to the monetary support provided by the VFW national organization, many local VFW members quickly joined relief efforts in their own devastated communities. When members of VFW Post 4709 in Conroe, Texas, discovered their Red Cross couldn't reach several emergency shelters, they prepared and shipped out three meals a day for nearly 2,000 people. 
Shortly after Hurricane Maria swept through Puerto Rico, VFW Post 754 Commander Gamalier Rosa departed his hometown of Shutesbury, Mass., for the storm-stricken island armed with Unmet Needs...
KANSAS CITY, Mo. - The Veterans of Foreign Wars of the U.S. and Tractor Supply Company (TSC) are teaming up for the fifth consecutive year to make this year's Memorial Day weekend a community event across the nation!
On May 27, TSC, the largest farm and ranch store chain in the United States, is offering local VFW Posts the opportunity to distribute "Buddy"® Poppies and program information ranging from service officer claims assistance to scholarships and financial assistance grants. Many Posts will also have cookouts. 
Pottsville, Pa. - D.G. Yuengling & Son, Inc. is pleased to announce it will enter its second year of support of the Veterans of Foreign Wars of the U.S. through its "Lagers For Heroes" campaign.
D.G. Yuengling & Son, Inc. will recognize the sacrifices that America's veterans have made with a significant donation to the Veterans of Foreign Wars' assistance programs in the amount of $100,000. Yuengling, America's Oldest Brewery began supporting the VFW through their "Lagers For Heroes" program in 2016. This year's program runs May 29 to July 4, 2017 and promotes Yuengling Traditional Lager and Light Lager with the line "Grab A Lager & Toast A Hero."
Annual VFW Youth Scholarship Competitions Now Open
KANSAS CITY, Mo. - The Veterans of Foreign Wars of the U.S. is now accepting entries into its 2017-18 Voice of Democracy and Patriot's Pen youth scholarship competitions. The announcement comes after students from across the globe recently took home their share of more than $3.3 million in scholarships and awards from last year's competitions.
The VFW's Voice of Democracy and Patriot's Pen essay competitions are dedicated to encouraging a better understanding and appreciation of America, and to help foster patriotism among today's youth. Students are required to submit an oral or written essay in response to a question or statement on a subject which prompts them to consider how American history and democratic ideals and principles apply to their lives.
get_gallery_small '2997','8';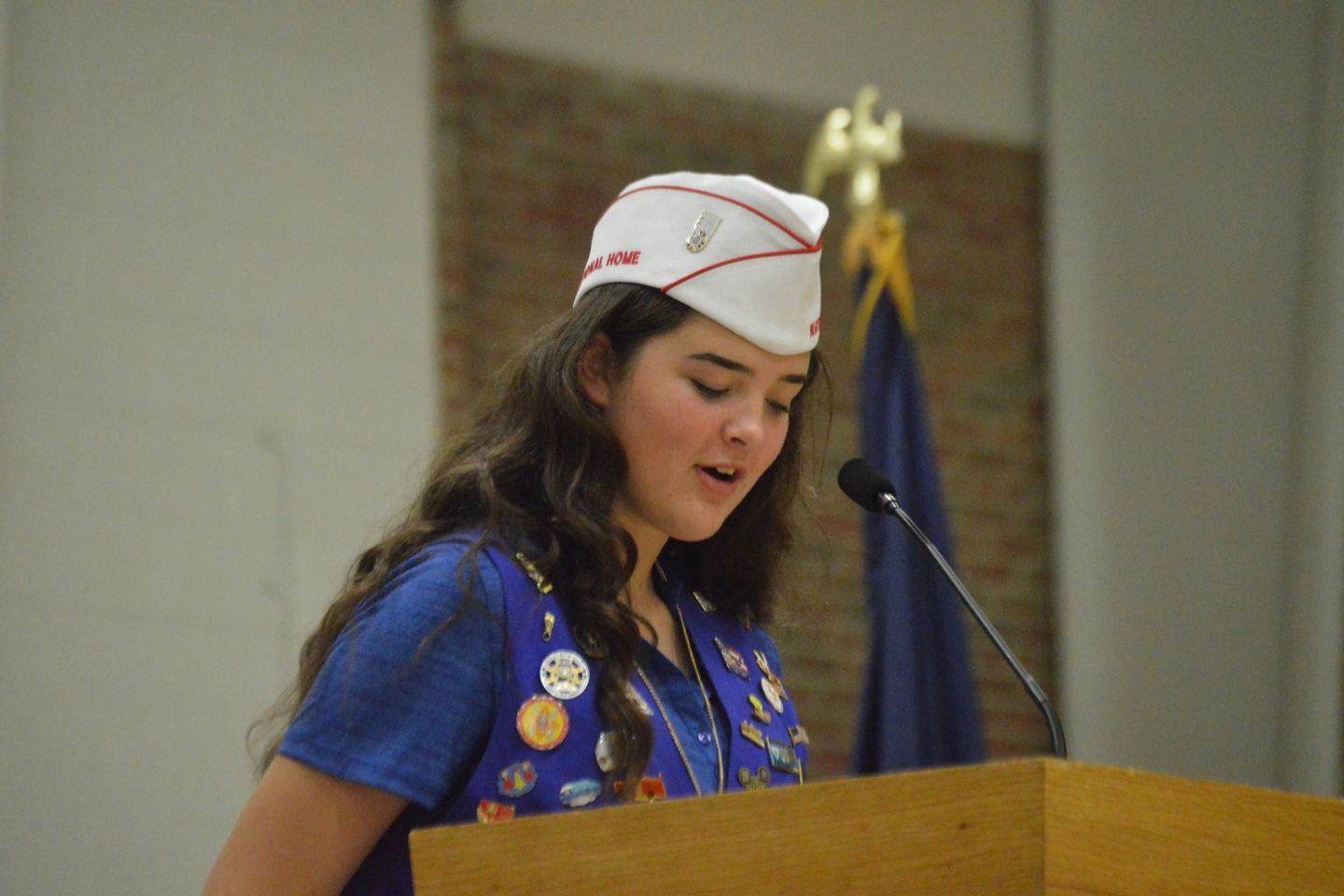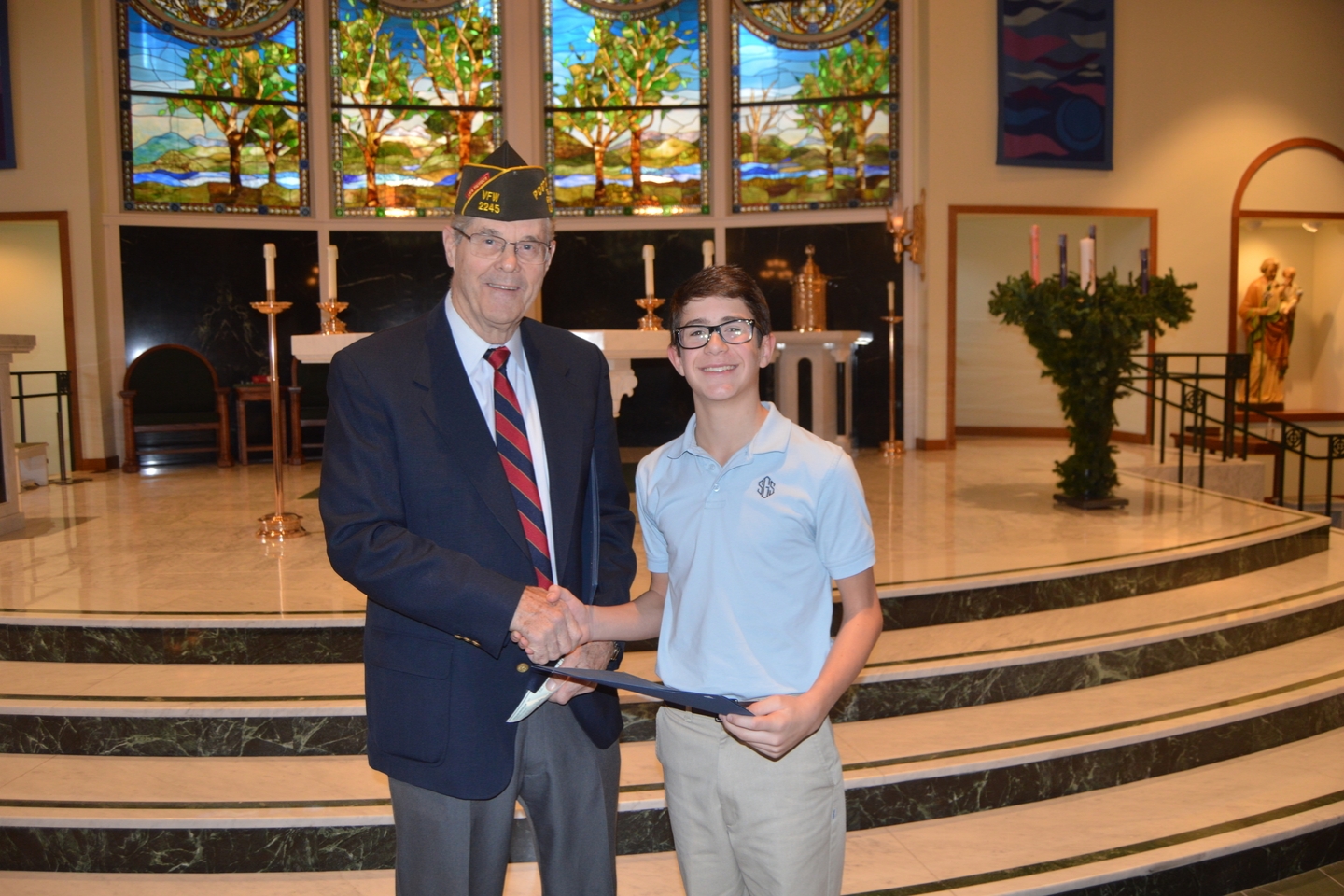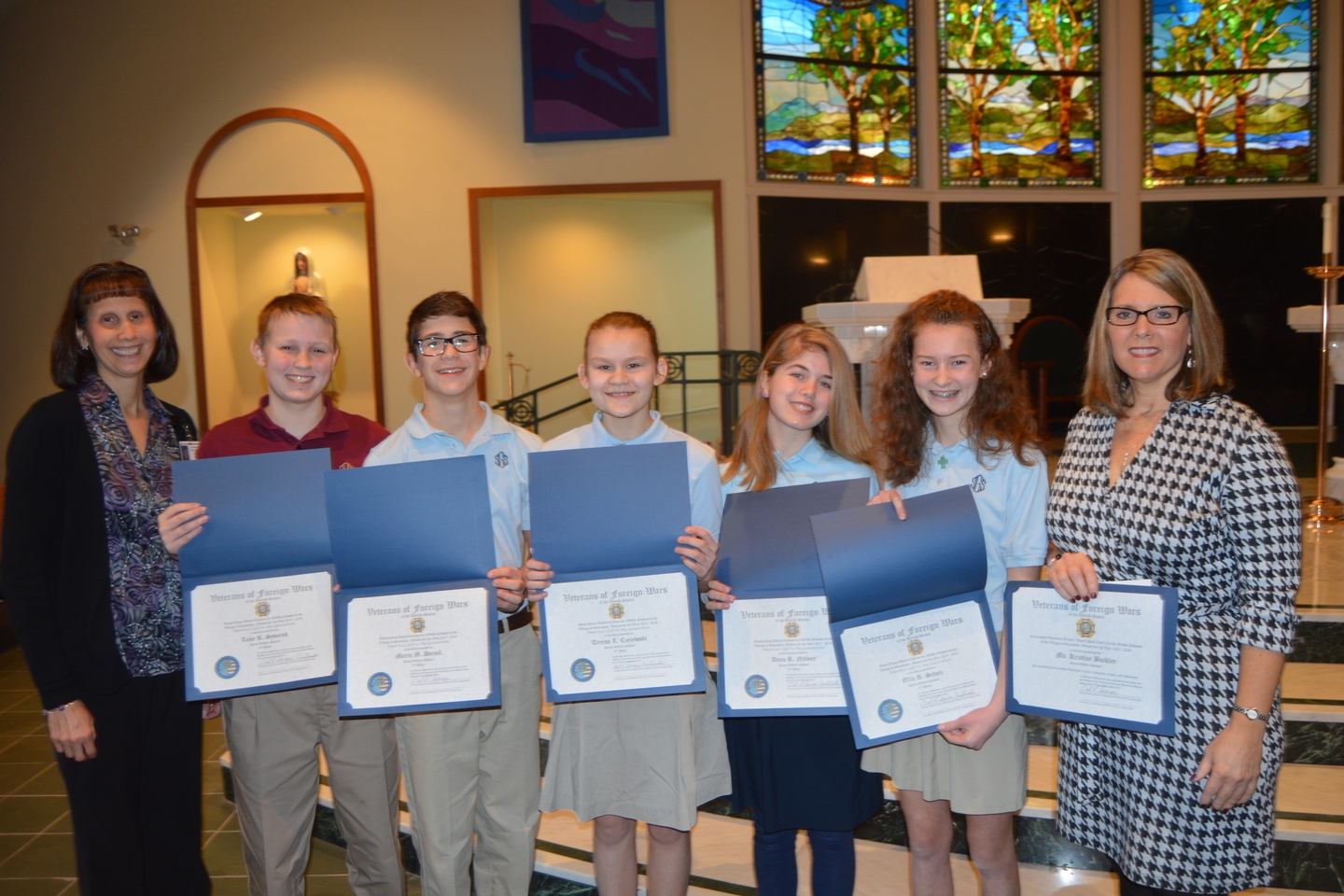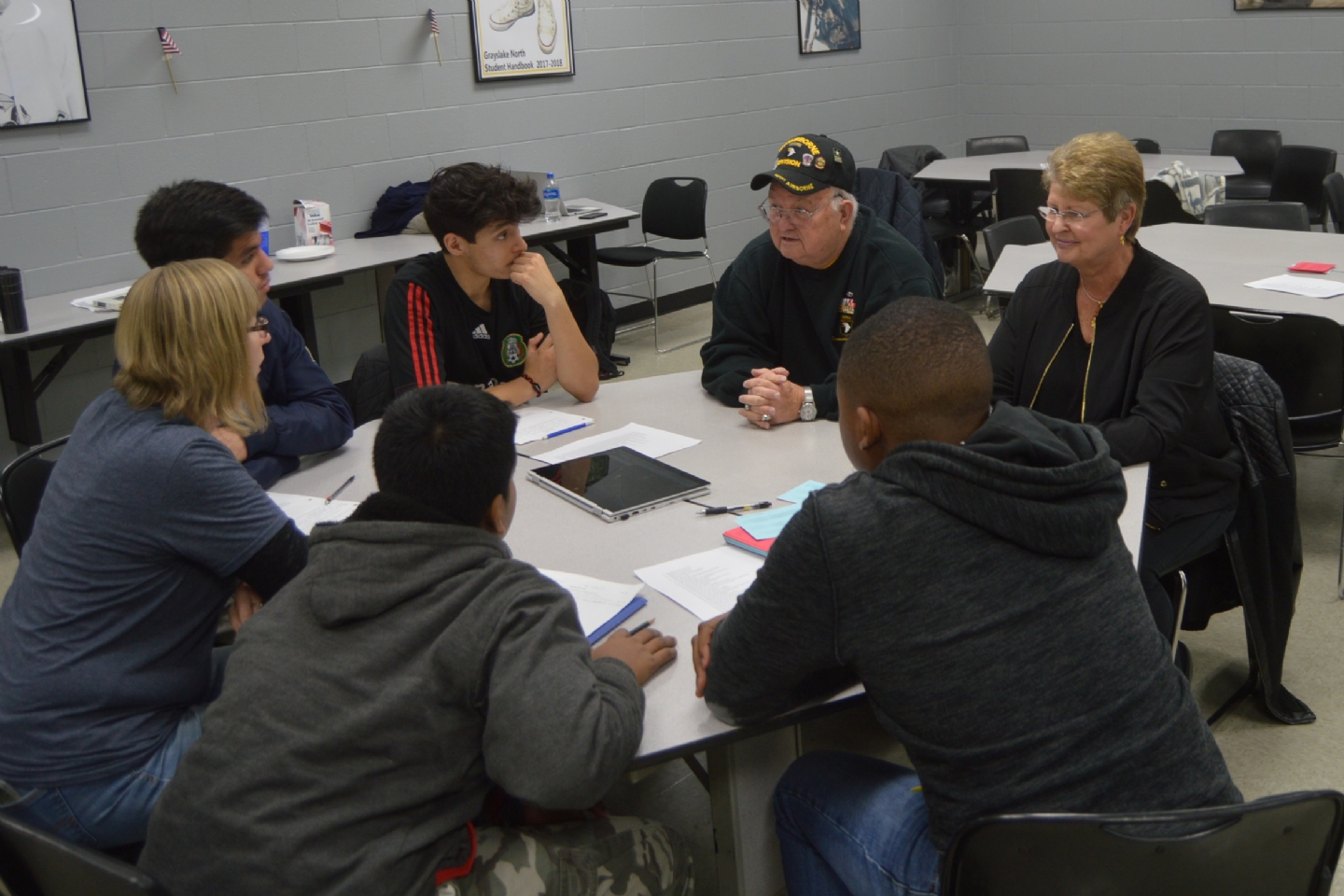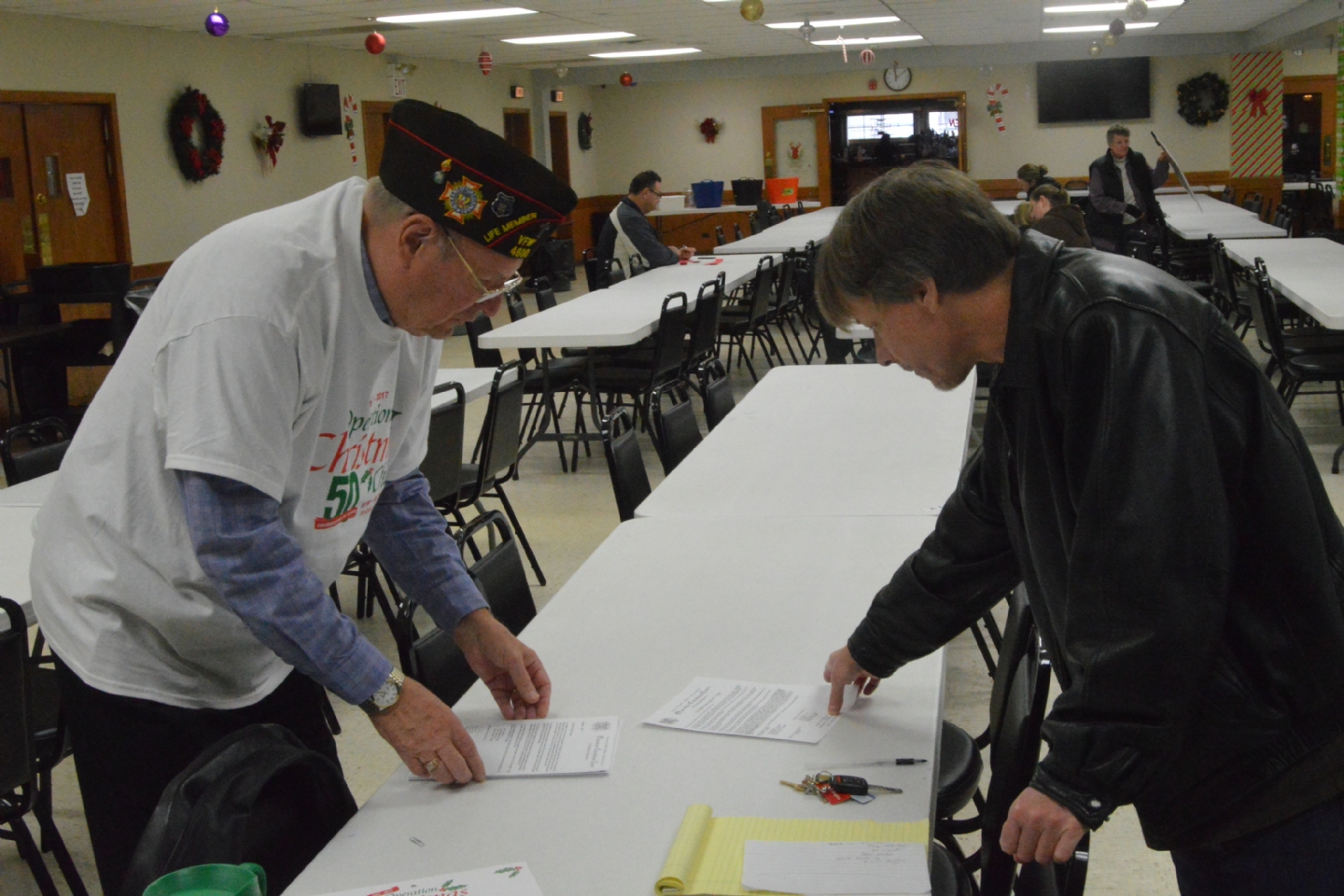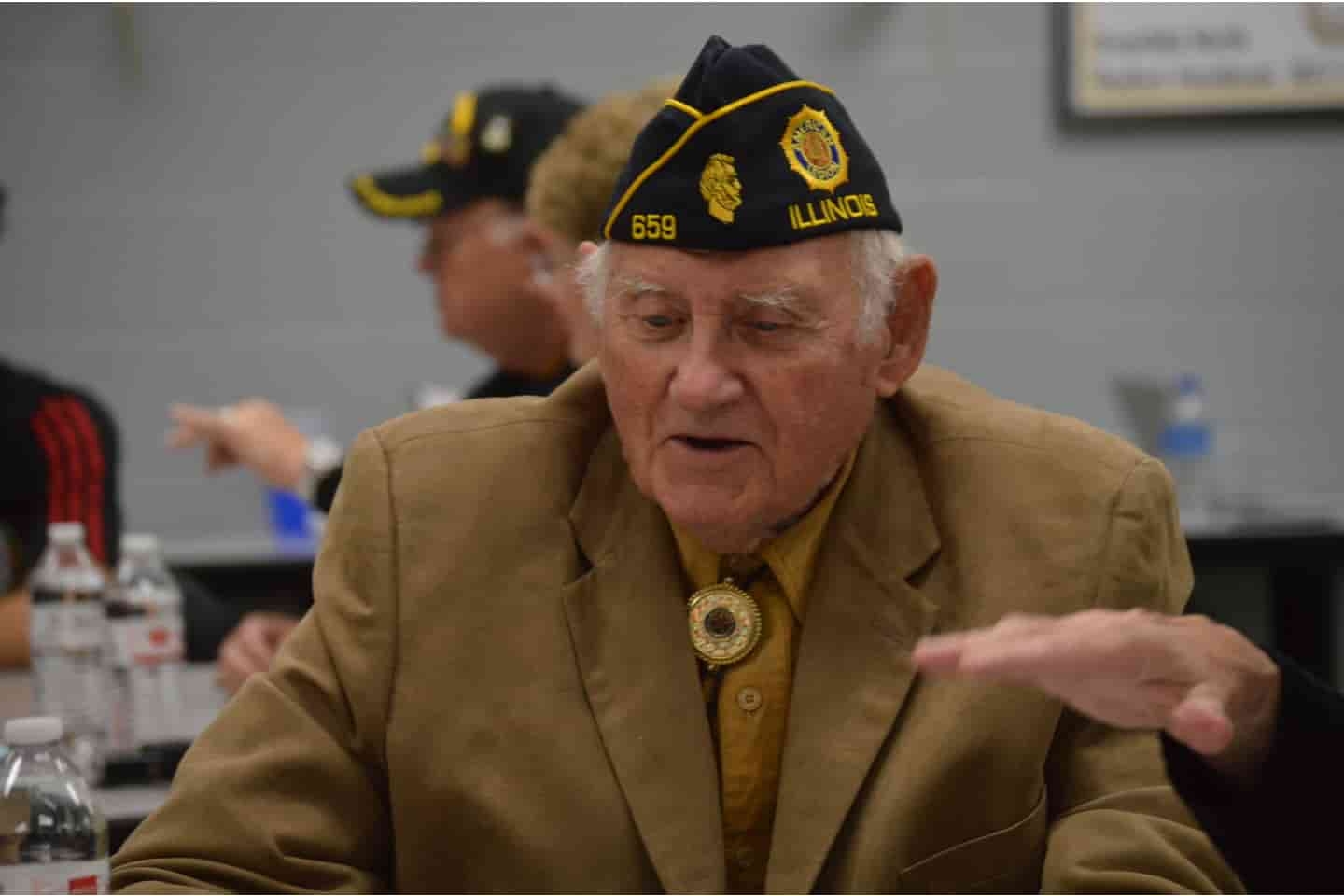 Post News
Important Info for Post2245 Members
Statewide News
News & Info from your department
National News
Important info from National VFW
VFW to Deliver Veterans' Voice to Congress
WASHINGTON — More than 500 members of the Veterans of Foreign Wars of the U.S. are arriving in the nation's capital this...
VFW Launches Mobile App for 2017 Legislative Conference
KANSAS CITY, Mo. – With its 2017 Legislative Conference only weeks away, the Veterans of Foreign Wars of...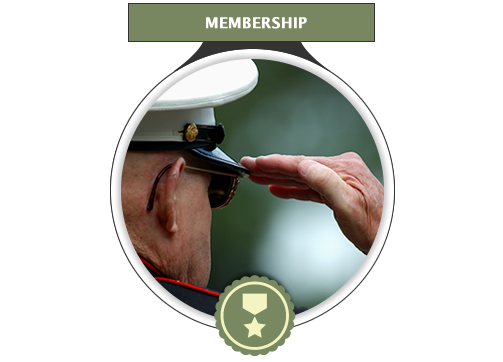 Membership Details
As yesterday's defenders of freedom...
...we want to welcome today's military service members into our ranks to become part of our elite group.

WWII, Korean War, Vietnam War, Persian Gulf War, Kosovo, War in Afghanistan, War in Iraq, War on Global Terror and other Peace-Keeping Expeditionary Campaigns throughout the globe.

Ron Hill Memorial Post 2245 was chartered December 12, 1972